Ergonomics of Sleep
Your sleep environment has a major impact on your quality of sleep. We have designed a unique collection of organic bedding products that optimize your sleep experience. See our Sleep Therapy Blog to learn more.
Why Organic?
Indoor air pollution caused by the offgassing of chemicals from synthetic materials is a major health problem and sleep disrupter. Your bedroom should be a sanctuary from the things that cause harm.
Rejuvenate!
Our large pillow selection allows you to choose just the right pillows. Our futons are designed to support alignment and open breathing channels. Using our EcoSquares™ assures airflow. The right bedding set up facilitates the body's relaxation response for deeper sleep.
Modular Options
Our Futon is refreshingly modular. With two you can create a Queen Bed or with one, a European Single. And if your needs change in the future you can turn a bed into a couch. This is great for small spaces and also makes moving a breeze!
Organic Kapok/Wool Futon
Our unique Kapok/Wool Futon provides the perfect balance of support and cushioning. Our modular concept allows you to create a Queen with two or a European Single with one. Praised for their comfort as well as easy maintenance and mobility.
Slatted Platform Bedframe
This basic unit is called an Eco Square™. This small platform can combine with others of it's kind to become almost any piece of furniture…a couch frame, a coffee table, a love seat, a wrap around couch, or… a lovely bedframe for either 1/2 Queen (European Single), or a Queen size bed.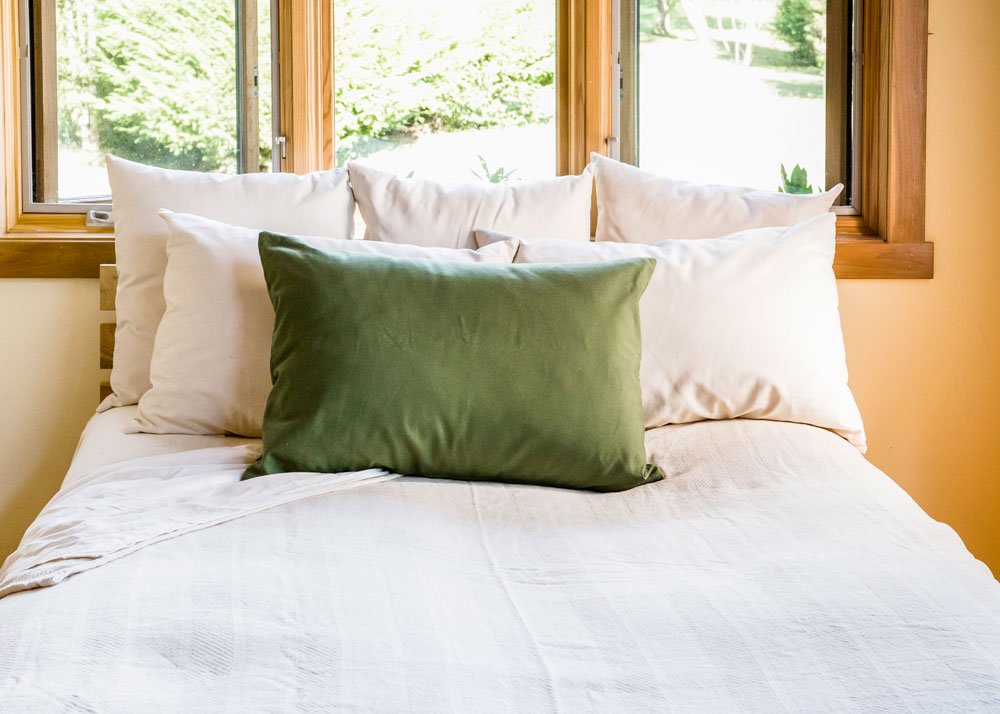 Organic Kapok Pillows
We have an amazing variety of pillows of all shapes, sizes, and stuffing densities, all made from the softest, finest organic fabrics. We have a pillow for all body types and sleeping styles so you can get your body in just the perfect position.
Japanese Buckwheat Pillows
Why use a buckwheat hull pillow? Buckwheat hulls allow constant air circulation through the pillow which keep you cool and dry. Since buckwheat hull pillows don't compress under pressure, they reduce stress on your neck, head and spine, plus provide a restful sleep. Pillows come in either a rectangular and cylindrical shape.  Both include a soft organic cotton removable cover.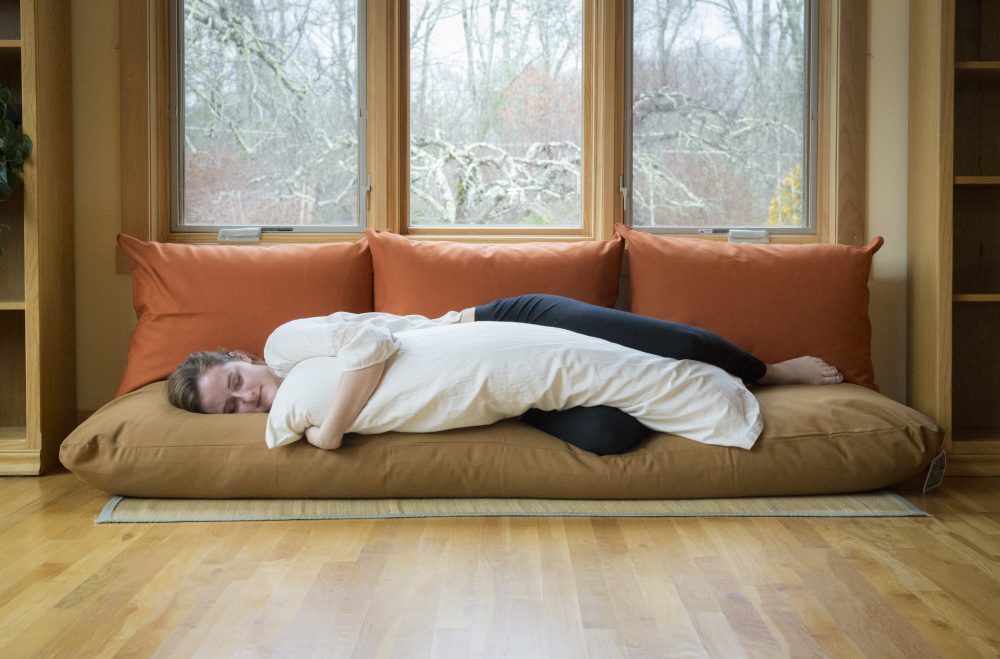 Body Pillow
Our kapok stuffed body pillows provide support for sleeping when laying on one's side. These large pillows contour the body so it is relaxed and in good alignment with optimum breathing. Sewn with breathable organic cotton fabric. Comes with a removable cover.
Organic Cotton Blankets
Expertly crafted, these chenille blankets have hemmed edges and get softer after every wash. The herringbone pattern provides texture and warmth to these mid-weight blankets. Domestically grown and milled 100% organic cotton.
Please Note: Limited quantities available.
Paleo Pad™
The Paleo Pad™ is two layers of wool felt in an organic cotton cover. The pad is about the thickness of a traditional Japanese Futon, quilt, or mattress pad. This is perfect for those who want to create a firm Japanese style sleeping environment. Optional removable cover.