Why Body Friendly Furniture?
Most modern furniture puts us in unhealthy positions which contribute to poor health and back pain. The alternative is furniture which puts you in healthy aligned positions which energize, tone and restore you as you work.
Why Movement Matters
The sedentary lifestyle has been found to cause major health problems sometimes called Metabolic Syndrome and Office Illness. Putting healthy movement into everyday life is the only way to alleviate the damage of prolonged chronic sitting.
Comfortable
There is nothing like the feeling of being alive and inspired rather than stuck at a desk all day. Our designs put you in energizing as well as restorative positions depending on your energy needs and type of activity.
Modular Options
Our designs are built with modular concepts as the cornerstone. Each piece has mulitple uses and can be combined with other pieces to create entirely new arrangements any time your needs or whims take you to a different place.
Zen Office™
A portable work station consisting of a Peace Bench™ and a Tilt Seat™ which work together for laptop computer use, writing and reading. This package can be used in three distinct ways. First, as a Floor Desk for active sitting while kneeling, squatting or perching (as seen in this picture). Second as an Active Sitting Work Station at a standard height desk. And third, as a Stand Up Desk.
Eco Backrest™
Our Eco Backrest™ is a multi-position, multi-dimensional, multi-use floor lounge chair. This chair is basically several yoga props built into one solid piece of furniture that can be used while actually DOING THINGS that would normally be done at a standard desk and chair work station. This revolutionary design allows the body a chance to rest throughout the day without interrupting the flow of work and activities.
Organic Platform Couch
Our sleek, clean, minimalist, eco-modern organic couch.
This couch is composed of Eco Squares™ with railings, a Futon, and extra firm Queen and Standard Pillows with removable covers. The frame is hand crafted from sustainably harvested Appalacian Poplar wood, and the modular design allows ease of moving and maintenance. Can become smaller (love seat) or larger (wrap-around couch) by adding or subtracting units.
Coffee Table (Eco Square™)
A single modular Eco Square™ makes a stylish coffee table that matches our platform bed or couch.  Lightweight. Dimensions 30″ x 40″ x 16″ tall. Carefully crafted from regionally harvested poplar wood, and finished with non-toxic Vermont Natural Coatings whey-based Furniture Finish.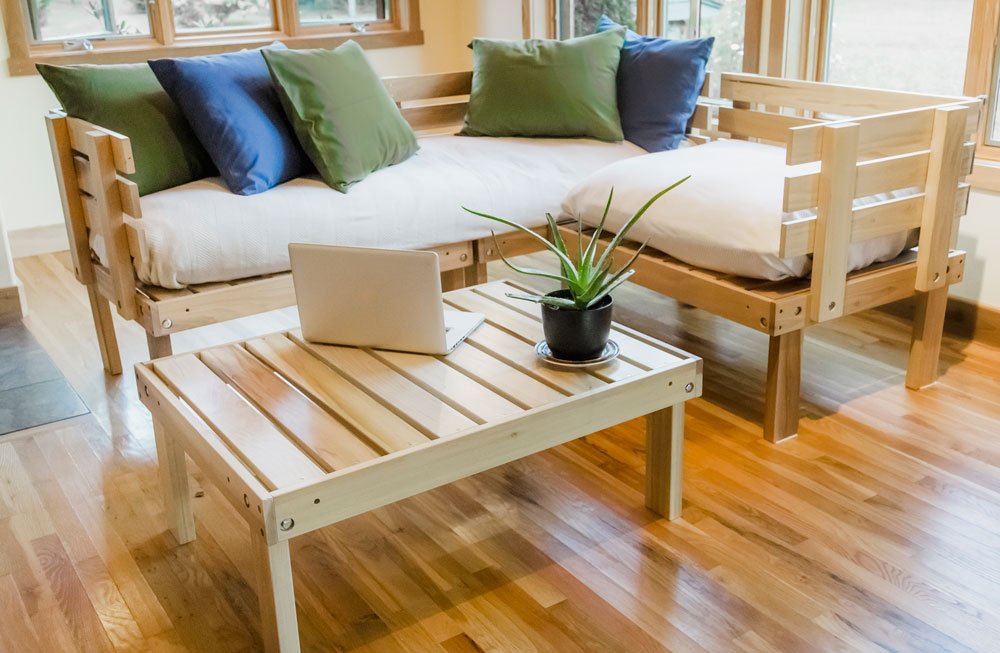 Eco Loveseat
Our sleek, clean, space saving design Eco Loveseat is another way of using our versatile Eco Square™. Composed of a single Eco Square™ with Railings, a 1/4 Futon, and 3 extra firm organic kapok pillows with removable covers. As needs change this unit can be turned into a couch or bed or coffee table by adding units or taking away the railings.
Floor Couch
A simple modular organic lightweight couch that comes in two options. The Economy option is composed of a Restorative Yoga Mat and three extra firm Standard pillows. The Deluxe option is composed of a Futon and three extra firm Queen pillows. Pillows come with removable covers for easy washing. Constructed with organic fabric and stuffed with chemical free kapok fiber.
Japanese Living Room Suite
Floor seating is being rediscovered as a sleek and attractive design alternative especially for small spaces. Our Japanese Living Room Suite helps create a comfortable floor living environment. Suite includes four Zabutons with a variety of seats (two Zafus, one Peace Bench™ and one Smile Cushion™). Feel free to mix and match from our variety of floor seats to fit your needs.
Tilt Seat™
The Tilt Seat™ is one of our most versatile products. The forward tilted angle aligns your spine for active sitting and deeper meditation while sitting at chair height. This chair provides similar benefits to floor sitting without going all the way to the floor. It is also used for several other purposes such as a floor sitting desk and a standing desk. Comes apart like a Chinese puzzle. Comes in three sizes and with optional cushion.
Eco Cube
Our Eco Cube is a small rectangular firm cushion that comes in handy where other pillows fall not-so-short. Just the right size when less is more. Use it under the Eco Backrest™ for a low reclining angle and massage table. Use it when sleeping similar to a body pillow. Use for a yoga prop (cross between a yoga block and a bolster) or use it as a meditation cushion. Join the happy customers who know the power of this little cushion which can lighten your load.